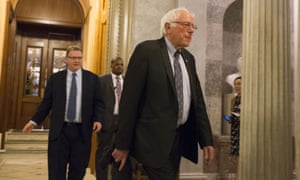 For me personally, Bernie Sanders has been the most effective critic of the Trump-led tax reform. He has clearly shown how most of the benefits will go to the wealthiest Americans. Personally, I feel that if the Democrats spin this right, then this will ensure a Democrat majority in the Senate and House of Representatives. There is an underlying deep resentment towards this bill – most Americans, particularly when it comes to money, are not stupid and can see when they have been hoodwinked.
Read more 
Bernie Sanders is not in politics for the money or the power as Trump. He genuinely is rooting for the average working man and wants the best deal for them. Sure he may lean rather too far to the left but he is genuine in his concerns that Trump is simply aiding and abetting the 1%:
See video
This is also an interesting viewpoint by Mel Robbins, a CNN commentator on the Trump effect and how it is Trumpism's last gasp – which chimes in with Jeff Flake's studied opinion of where the Republican party is headed:
'In reality, America is more diverse than ever. It is easy to see that Trump's world is white. Just look at who he has appointed — more white male judges than any president in three decades. His nominees for 24 Cabinet and cabinet-level posts included only six women and nonwhites. That's more white male representation than any of the past five presidents. Here is an interesting breakdown of the White House intern cohort this year. I will let you judge with your own eyes how well it reflects America. This whitewash rally? A last gasp … This is the beginning of the end of Trump and his "idea" of America'.
Read more