Fossil fuels are way more expensive than you think
A new study estimates the costs of energy sources including their carbon and other air pollutants.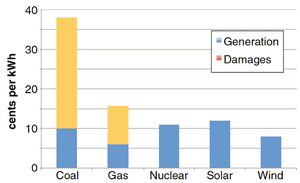 Levelized generation costs for new US electricity generation and environmental damages by fuel type. Source: Climatic Change, Shindell (2015).
A new paper
 published in 
Climatic Change
 estimates that when we account for the pollution costs associated with our energy sources, gasoline costs an extra $3.80 per gallon, diesel an additional $4.80 per gallon, coal a further 24 cents per kilowatt-hour, and natural gas another 11 cents per kilowatt-hour that we don't see in our fuel or energy bills.
The $200 Billion Fossil Fuel Subsidy You've Never Heard Of – Forbes
 "Numbers on the exact direct fossil fuel subsidies in the U.S. vary, but it's probably on the order of $20 billion being handed out to the fossil fuel industry each year. That's on top of the $200 billion hidden subsidy they're already getting for polluting our air and contributing to climate change."
There's an "alternative fact" that has been prevailing in society. That is that climate change is not happening, or at least not happening due to humans. This view has held strong even though billions of people around the world—including right here in the U.S.—are already experiencing the damaging, costly, and dangerous effects of a changing climate. In the past week, the Trump administration has put this "alternative fact" front and center—taking actions to wipe government websites clean of the words "climate change," walk back environmental rules,  and limit the effectiveness of the EPA. These are the signs of an administration that is not only hostile towards climate change, but towards science itself.
Read more