Wastewater injection, a byproduct of fracking, is the likely culprit behind a surge of earthquakes in northern Texas – and residents want accountability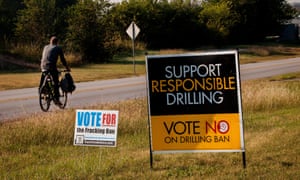 An earthquake, Cathy Wallace says, feels like "a rumble – it's like thunder in the ground coming towards your house like a train and you can hear it and feel it coming".
Wallace is not based in California, or in any of the US's well-known seismic hot-spots. She lives in north Texas, historically one of the country's least earthquake-prone regions – until the drillers came.
Rampant energy industry activity is nothing new in Texas, but these days it does not only signify oil pumpjacks nodding lugubriously in remote fields. In little over a decade, since fracking began in earnest in the Barnett Shale, drilling sites have become part of the urban landscape in the nation's fourth-largest metropolitan area, sometimes placed a matter of metres from houses, businesses, churches, schools, parks and the 11th-busiest passenger airport in the world.
Read more
What is fracking?
HideFracking, or hydraulic fracturing, is a way of extracting natural gas from shale rock formations that are often deep underground. It involves pumping water, chemicals and usually sand underground at high pressure to fracture shale – hence the name – and release the gas trapped within to be collected back at the surface.
The technology has transformed the US energy landscape in the last decade, owing to the combination of high-volume fracking – 1.5m gallons of water per well, on average – and the relatively modern ability to drill horizontally into shale after a vertical well has been drilled.