Oceans suffocating as huge dead zones quadruple since 1950, scientists warn
Areas starved of oxygen in open ocean and by coasts have soared in recent decades, risking dire consequences for marine life and humanity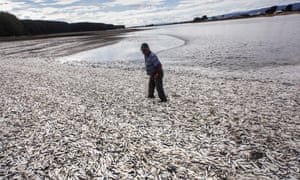 Climate change caused by fossil fuel burning is the cause of the large-scale deoxygenation, as warmer waters hold less oxygen. The coastal dead zones result from fertiliser and sewage running off the land and into the seas.
Read more
Coral reefs head for 'knock-out punch'
Repeat bouts of warmer seawater are posing a significant challenge to the world's tropical corals. A study of 100 reefs, published in Science Magazine, shows the interval between bleaching events in recent decades has shortened dramatically. It has gone from once every 25-30 years in the early 1980s to an average of just once every six years today. Bleaching is caused by anomalously warm water, which prompts coral polyps to eject their symbiotic algae.
Read more