Soft drink manufacturer refuses to alter recipe, as rivals face backlash over reduced sugar Irn-Bru in Scotland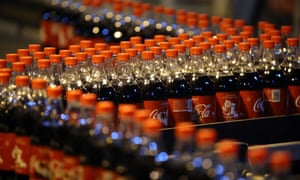 The changes are part of the preparations underway in the fizzy drinks business for the sugar tax. The cost of some "price marked packs" of Coca-Cola sold in newsagents and convenience stores will increase by more than 10% in March, just before the new tax comes into effect the following month.
The plans will see a 1.75 litre bottle of Coke shrink to 1.5 litres and at the same time increase in price by 20p to £1.99. The price of a 500ml bottle is also increasing, from £1.09 to £1.25. The new price means the cost of a half-litre bottle will have soared 25% in a matter of months, as they were just £1 until last autumn.
Read more