Retailers and restaurants urged to sign up to new cross-European guidelines amid growing concerns over cruelty in intensive meat production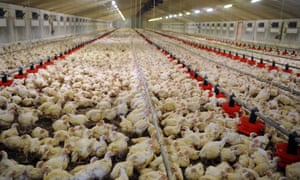 New welfare standards for farmed chickens have been demanded by a large coalition of European animal protection groups, including the RSPCA, in a bid to address growing concerns about inhumane conditions in the intensive and large-scale production of meat.
Supermarkets and restaurants are being urged to sign up to the new blueprint, which represents the first time a single set of requirements has been agreed on across the continent.
The chicken run: blood, sweat and deceit at a UK poultry plant
The Guardian sent two undercover journalists to work in the supermarket supply chain and found some alarming food safety practices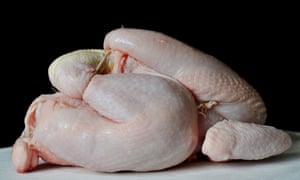 "Have you just got out of prison?" the slaughterhouse foreman asks his new recruit.
It is a question seemingly posed in jest, but probably only to mask a genuine suspicion that a spell in clink is the most likely explanation for an odd situation.
The new boy stands out because he is a rare Briton reporting for stomach-churning, minimum-wage work at an intensive chicken processing plant in Devon, where his typical colleague is eastern European and speaks almost no English.
This reliance on immigrant labour is hardly a unique situation within UK industry, but it is a striking feature of 2 Sisters Food Group, a giant £3bn-revenue food processor that produces industrial quantities of the country's favourite meat.
Every week a sizeable chunk of the company's 23,000 workers – drawn from 36 different nationalities – churns out 6 million chickens, part of an operation that produces a third of all the poultry products consumed in the UK. Its products are found on the shelves of the major UK supermarket groups. This summer, two undercover reporters for the Guardian and ITV News were among its workforce.
Read more