Exclusive: Guardian investigation unwraps truth about supermarket plastics after big brands refuse to divulge packaging secrets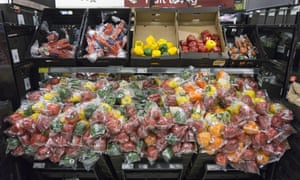 Britain's leading supermarkets create more than 800,000 tonnes of plastic packaging waste every year, according to an investigation by the Guardian which reveals how top chains keep details of their plastic footprint secret.
As concern over the scale of unnecessary plastic waste grows, the Guardian asked Britain's eight leading supermarkets to explain how much plastic packaging they sell to consumers and whether they would commit to a plastic-free aisle in their stores.
The chains have to declare the amount of plastic they put on the market annually under an EU directive. But the information is kept secret, and Tesco, Sainsbury's, Morrisons, Waitrose, Asda and Lidl all refused the Guardian's request, with most saying the   information was "commercially sensitive".
Read more
and
The plastic-free stores showing the big brands how to do it
Retailers at the vanguard of Britain's zero-waste movement say business is booming, so why are major supermarkets not doing more to cut plastic waste?
In the past few weeks Richard Eckersley has noticed a change in the type of people who come into his shop.
The former Manchester United footballer, who turned his back on the game to set up the the UK's first "zero waste" store on Totnes high street in Devon, says it is no longer only committed environmentalists who pop in, looking for a cleaner way to shop.
"We thought January might be a bit quieter but it has been crazy," says Eckersley, who set up the Earth.Food.Love shop with his wife Nicola in March. "A lot of new people are coming in – people who have not necessarily been involved in green issues before … it really feels like this [concern about plastic waste] is starting to break out of the environmental bubble."
Read more