Here are just a few examples of what is going on around the planet:
New Zealand fisheries want grisly images of dead penguins caught in nets censored
Industry leaders say plan to install cameras on commercial fishing vessels is a risk to 'NZ Inc'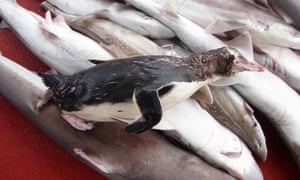 ​The seafood industry in New Zealand has asked the government to withhold graphic video of dead sea life caught in trawler nets as they are potentially damaging to fisheries and to brand New Zealand.
A letter from five seafood industry leaders to the Ministry of Primary Industries highlights the fisheries' growing unease with the government's proposal to install video cameras on all commercial fishing vessels to monitor bycatch of other species and illegal fish dumping.
The letter requests an amendment to the Fisheries Act, so video captured onboard cannot be released to the general public through a freedom of information request, frequently used by the media, campaign groups and opposition parties.
Read more
and
Warning over Pacific bluefin tuna stocks as Japan meeting ends in stalemate
Meeting ends with no move to save endangered fish as campaigners warn bluefin tuna stocks will continue to plunge unless urgent action is taken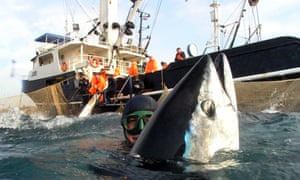 Campaigners have warned that global stocks of bluefin tuna will continue their dramatic decline after Japan– by far the fish's biggest consumer – and other countries failed to agree on new conservation measures.
A four-day meeting in Sapporo, northern Japan, of countries that monitor stocks in most of the Pacific Ocean, made no progress towards helping fish populations recover from decades of overfishing, according to the Pew Charitable Trusts.
Faced with the collapse of bluefin stocks, last year members of the Western and Central Pacific Fisheries Commission decided to halve the catch of tuna under 30kg from its average level in 2002-2004, although conservation groups had called for a moratorium to give stocks time to recover.
But campaigners say urgent action is needed to help the bluefin tuna population, which in 2012 was estimated to have plummeted by 96% from unfished levels during nearly a century of overfishing.
Read more
and
China finds 100,000kg of poisoned dead fish in river / 中国在河流中发现10万公斤中毒死鱼
Environmental officials say animals killed by ammonia from nearby chemical plant amid worsening pollution problem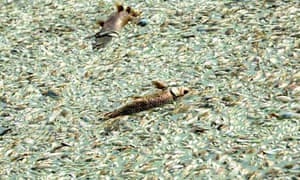 Chinese authorities have scooped up about 100,000kg (220,000lb) of dead fish they say were poisoned by ammonia from a chemical plant, environmental officials and state media said in a reminder of the pollution plaguing the country.
The Hubei province environmental protection department, which was notified of the discovery in the Fuhe river on Monday, pointed the finger at local company Hubei Shuanghuan Science and Technology Stock Co.
Officials said sampling of its drain outlet showed that ammonia density far exceeded the national standard. The company has refused to comment.
Inadequate controls on industry and lax enforcement of existing standards have worsened China's pollution problem, stemming from three decades of economic growth. High-profile incidents this year involving dead animals in rivers – not only attributed to pollution but also carcasses dumped by farmers – have added to concerns about the safety of drinking water.
Read more