Exclusive: Boonchai Bach allegedly ran tusk and horn smuggling route from Africa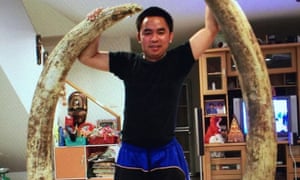 Police in Thailand have arrested one of the world's most notorious wildlife traffickers, allegedly involved in the smuggling thousands of tonnes of elephant tusks and rhino horns from Africa to Asia, the Guardian has learned.
Boonchai Bach, who goes by multiple aliases including Bach Mai Limh, was arrested at his operational base in the north-eastern province of Nakhon Phanom, next to the Mekong River on Thursday.
Authorities are holding him in relation to the alleged trafficking of 14 rhino horns from Africa into Thailand in December.
Steven Galster, the founder of the Bangkok-based anti-trafficking organisation Freeland, said the arrest was historic. "It is like catching one of the Corleones," he said, referring to the fictional mafia family.
Read more