There has been a lot of speculation over the state of water resources in a planet with a booming world population. The state in which Cape Town now finds itself indicates that cities are now going to have to focus a lot more attention on conserving precious water resources or face the same situation.
Residents will have to queue at standpipes for daily rations unless they drastically reduce consumption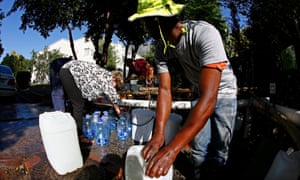 Residents of Cape Town have been warned that they face losing piped water to their homes within two months if they do not implement drastic measures to counter the effects of the worst drought for almost century to hit South Africa's second city.
Local authorities have warned the 500,000 residents that if consumption reductions are not achieved by "Day Zero" – 12 April – they will have to queue at 200 standpipes for daily rations of 25 litres (6.6 US gallons).
However, the measures have not been sufficient, forcing local officials to bring forward "Day Zero" by nine days.
Read more