Much of the debris found was relating to the fishing or maritime industries
A survey of the Arctic has found masses of plastic pollution killing wildlife 
Shocking scenes include a reindeer which became snared on fishing rope
Polar bears and birds  have been among the creatures affected by plastic 
We think of the Arctic as a pristine wilderness still untouched by human hand. These shocking images dispel that myth in brutal fashion.
One shows a reindeer who died after becoming tangled in a plastic fishing net – just one piece of masses of plastic waste found in the Arctic.
The velvet covering its antlers was ripped away during the creature's desperate struggle to free itself, and its corpse is left bloodied by its ultimately futile efforts.
Read more
***
Plastic waste 'building up' in Arctic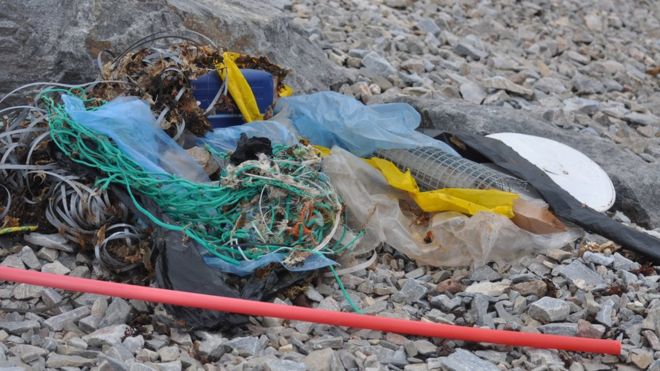 Plastic waste is building up in the supposedly pristine wilderness of the Norwegian Arctic, scientists say.
Researchers are particularly concerned about huge concentrations of microplastic fragments in sea ice.
They say they've found plastic litter almost everywhere in the Arctic they have looked.
Norwegian fishermen are worried that their fish stocks may lose their reputation for being untouched by pollution.
Most of the large plastic waste there comes from discarded fishing gear.
And boat owners admit it will take hundreds of years to overcome a few reckless decades of using the sea as a dump.