The Olympics is one of the world's greatest sporting events. Why is it associated with products that can lead to obesity?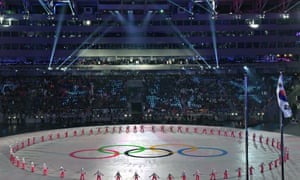 On Friday, nearly 3,000 of the world's best athletes took to the slopes, rinks, and half pipes in Pyeongchang, South Korea, for the Winter Olympics. The images beamed to televisions in the 92 countries with athletes competing and beyond will create new sporting heroes for hundreds of millions of children from Tennessee to Tunisia, Moscow to Mali.
The Olympic stories written over the next weeks will inspire many of those kids to put on their first pair of skates or skis. These images will also be interrupted every other minute by advertisements from official sponsors like Coca-Cola and partners like McDonalds, the very companies that provide the food products that could be the biggest obstacle not only to becoming an Olympic athlete, but also to living a healthy and happy life.
Even before the Winter Olympics kicks off, the world is already in the grip of a global health epidemic that's only getting worse. In 2016, according to the World Health Organization, 39% of the world's population was classified as overweight and 13% obese. It is predicted that by 2030, if the current prevalence continues on its existing trajectory, almost half of the world's adult population will be overweight or obese.
In Korea, which has historically been one of the healthiest countries in the world, obesity is projected to almost double by 2030. Children all over the world will be inspired to replicate the success of their heroes at Pyeongchang but for many, the reality is that those dreams will be shattered by the impacts of obesity, which include cardiovascular disease, diabetes and cancer.