Environmentalists say forest the size of Kentucky could compensate for 'monumental stupidity' of US withdrawal from Paris climate agreement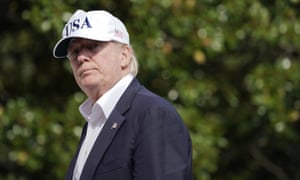 More than one million trees have been pledged for Trump Forest, a bid by environmentalists to offset the US president's curtailing of Obama-era clean energy initiatives by planting 10 billion trees around the globe.
"US president Donald Trump doesn't believe in the science of human-caused climate change," reads the website for the project, launched before Trump withdrew the US from the Paris climate accord.
"So we're planting a forest to soak up the extra greenhouse gases Trump plans to put into our atmosphere. We're planting a global forest to offset Trump's monumental stupidity."
The project was launched last March and in less than a year over a million trees have been pledged from people around the world, but particularly in the US and Europe.
The donated trees are to go towards offsetting the 650m tonnes of CO2 that will be released into the atmosphere by 2025 if the president's plans to backtrack on US climate commitments go ahead, organisers say.
The figure of 650m tonnes – equivalent to the annual carbon footprint of 33 million Americans – is calculated from Trump's decision to roll back the US 2015 Paris agreement pledge to lower emissions by at least 26% below 2005 levels by 2025.
It would take 10 billion trees – covering a landmass roughly the size of the state of Kentucky – to offset the full amount.
Read more