Without regulations that scrutinise food standards and trade deals, we cannot trust the safety of the food on our plates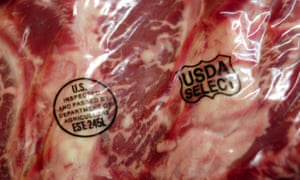 It should come as no surprise that the global meat industry is a major source of disease and crime. We are talking about a substance of animal origin, inherently alive with risky micro-organisms, necessitating expensive traceability and investment to make it safe, and worth hundreds of billions of dollars in global trade.
But in the UK, regulation is increasingly underfunded. Meat inspection services have been slashed over the past decade in favour of greater industry self-regulation, favouring private assurance schemes and meat companies being given fewer inspection if they can show general compliance. This might sound sensible until you look back over recent history and realise that it has been some highly reputable companies that have been the source of bad meat news, and that it was a spot-check random inspection that uncovered the Russell Hume case. Without robust regulation and independent checks, food scandals are too often the result. And the picture is the same all over the world, as the global demand for meat increases rapidly as wealth increases, government seeks to reduce 'red tape' and more people adopt western, meat-heavy diets.
Read more