Tens of thousands strong-armed into attending the event, according to reports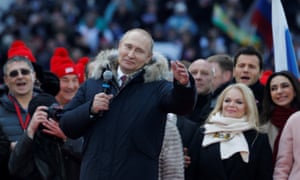 Vladimir Putin, flanked by cheering supporters, strode on to a stage in the centre of Moscow's colossal Luzhniki Stadium and urged a crowd of tens of thousands of flag-waving Russians to join him in building a bright and joyful future for the country's children."Our ancestors lived here, we live here, and this is where our children and grandchildren will live," Putin said on Saturday afternoon, at what was his sole campaign rally ahead of this month's Russian presidential elections. "And we will do everything to make them happy!"
Standing beside Putin were celebrities and sports stars, including members of Russia's men's ice hockey team fresh from their triumph at the Winter Olympics. At Putin's bidding, they burst into a rendition of Russia's national anthem. Police said 80,000 people were present, with another 50,000 watching on big screens outside the stadium.
It was, on the face of it, a perfect demonstration of popular support for Putin, who is all but certain to secure another six-year term of office when Russians go to the polls on 18 March.
Read more
***
Putin: Russia will 'never' extradite 13 nationals indicted by Mueller / Путин: Россия хочет «никогда» не экстрадировать 13 граждан, обвиняемых Мюллером
Russians were indicted by special counsel for interfering in election
Putin insists the 13 indicted did not act on behalf of his government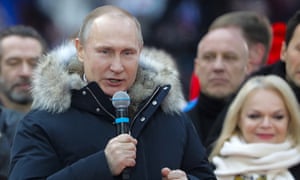 Russia will "never" extradite any of its 13 nationals indicted last month by special counsel Robert Mueller for interfering in the 2016 US election, 
Vladimir Putin
said, even as he insisted they did not act on behalf of his government.Putin spoke in a second interview with Megyn Kelly of NBC, due to air in the US on Sunday and trailed extensively this week. Kelly, formerly of Fox News, first interviewed the Russian president in June 2017.
In that interview, the Russian president denied that his government holds any compromising material on Donald Trump. The existence or not of such "kompromat" is one strand of Mueller's investigation into Russian interference, which US intelligence agencies agree aimed to sway the election in Trump's favour.
Mueller is also looking into alleged collusion between Trump aides and Moscow and has indicted four former staffers: national security adviser Michael Flynn, foreign policy adviser George Papadopoulos, campaign manager Paul Manafort and his deputy, Rick Gates.
Read more