If tests of the 100 metre-long barrier that collects rubbish on the sea's surface are successful, it could be deployed at a larger scale in the 'great Pacific garbage patch'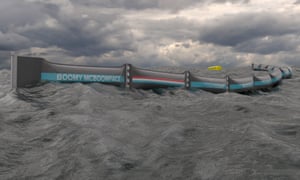 A bid to clear the Pacific of its plastic debris has moved a step closer with the launch of the biggest prototype clean-up boom yet by the Dutch environment minister at a port in The Hague.
On Thursday the 100 metre-long barrier will be towed 12 miles (20km) out to sea for a year of sensor-monitored tests, before being scaled up for real-life trials off the Japanese coast at the end of next year.
If all goes well, full-scale deployment of a 100km-long version will take place in the "great Pacific garbage patch" between California and Hawaii in 2020.
The Dutch environment minister, Sharon Dijksma, told the Guardian that her government, which part-funded the test, was fully backing the project, which will eventually cost about £230m (€300m).
"We can use our political pressure with other governments, businesses and the international institutions to fund this on an even bigger scale," she said. "We are used to fronting public-private [partnerships] like this. It is not new for us. When it is a success, philanthropists will be standing in line asking to join us."
The snake-like ocean barrier is made out of vulcanised rubber and works by harnessing sea currents to passively funnel floating rubbish – often just millimetres wide – into a cone.
Read more