Video posted on YouTube shows water densely strewn with food wrappers, cups and sachets as tropical fish dart in and out
A British diver has captured shocking images of himself swimming through a sea of plastic rubbish off the coast of the Indonesian tourist resort of Bali.
A short video posted by diver Rich Horner on his social media account and on YouTube shows the water densely strewn with plastic waste and yellowing food wrappers, the occasional tropical fish darting through the deluge
The footage was shot at a dive site called Manta Point, a cleaning station for the large rays on the island of Nusa Penida, about 20km from the popular Indonesian holiday island of Bali.
In a Facebook post on 3 March Horner writes how the ocean currents had carried in a "lovely gift" of jellyfish and plankton, and also mounds and mounds of plastic.
"Plastic bags, plastic bottles, plastic cups, plastic sheets, plastic buckets, plastic sachets, plastic straws, plastic baskets, plastic bags, more plastic bags, plastic, plastic," he says, "So much plastic!"
Read more
***
Bali hopes to regain paradise island status with mass cleanup
Thousands will join the One Island One Voice cleanup of beaches, rivers and jungles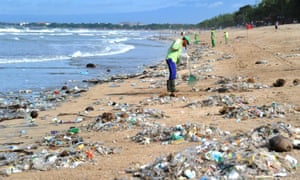 O
verwhelmed by tides of waste and decades of mass tourism, to some, the Indonesian island of
Bali
is a paradise long lost.
This weekend, however, thousands of people will join in an effort to rid its coastline, rivers and jungles of rubbish and restore its natural beauty.
The mass cleanup is the initiative of One Island One Voice(OIOV), an umbrella movement of organisations and individuals wanting to reduce waste and create a "greener, cleaner Bali".
The movement includes groups such as Bye Bye Plastic Bags, an NGO founded by two Balinese teenage sisters, Melati and Isabel Wijsen, who want Bali to ban plastic bags.
Read more