California, Washington and Oregon have led criticism of Trump's climate policies, but change hasn't been easier closer to home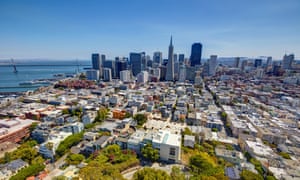 California's exposure to climate change has been laid bare with warnings that San Francisco faces a far worse threat from rising seas than previously thought, while the agricultural heart of the state will increasingly struggle to support crops such as peaches, walnuts and apricots as temperatures climb.
The findings, from two new scientific studies, come as California's neighboring west coast states Oregon and Washington have both faltered in their legislative attempts to address climate change and deliver a rebuke to Donald Trump's dismissal of the issue.
The problems faced by the progressive coastal bastions have been sobering on two fronts: not only is the western flank of the US experiencing the escalating consequences of climate change, but widespread Democratic dominance at state level has failed to enact ambitious policies to reduce greenhouse gas emissions.
Read more