Liang Xiangyi showed theatrical disdain for a colleague's soft-ball question to a minister at a press conference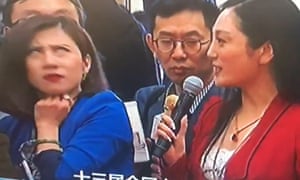 For years foreign correspondents have debated whether to boycott the pantomime press conferences Beijing uses to present a facade of transparency during its annual political summits.
On Tuesday one Chinese journalist hinted – in side-splitting fashion – at which side of the row she was on with an eye-roll so theatrical it set the internet alight and – in these politically treacherous times – may also have landed her in trouble.
The eye-roll in question came in response to a characteristically servile question at one of the heavily-scripted press conferences held on the sidelines of China's annual parliament, the national people's congress.
Zhang Huijun, a reporter from a US-based channel with apparent ties to the Chinese government, was there – clad in Communist party red – with the mission of 'interrogating' a Chinese official about one of Xi Jinping's pet projects, the Belt and Road initiative.
Read more