This is the treatment you can expect to receive for helping the US as an ally. By announding the impending departure of US troops from Syria, Trump is now leaving his Kurdish allies exposed to the advance of Turkish forces as well as leaving a pocket of hard-core ISIS fighters to carry on fighting. Well done Donald – you really have dulled the star of American values and now don't expect any support from other allies when you might need it the most.
Trump's vow to pull US troops from Syria strains alliance with Kurds
Troubled partnership against Isis shows signs of cracking after surprise announcement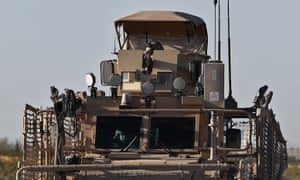 The possible withdrawal of US troops from Syria has raised alarm among officials involved in the war against Islamic State who say at least 2,200 fighters remain entrenched in the east, with the alliance built to oust the extremists showing signs of cracking.
Donald Trump's surprise announcement late last week that US troops would be "coming out of Syria … very soon" has placed further stress on an already troubled partnership between Washington and a Kurdish-led force it had assembled to push Isis from north-east Syria.
Even before the Trump announcement, which caught policymakers in Washington off-guard, senior officials said US troops did not have the manpower to finish the war by themselves.
Read more