Children's teeth rotting in their mouths because of sugary foods, say experts
141 children, some as young as one year old, are admitted to hospital every day to have rotten teeth pulled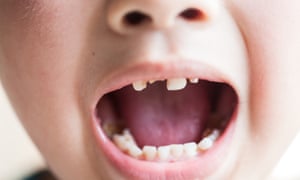 A child has a rotten tooth pulled out in hospital every 10 minutes, Public HealthEngland (PHE) has said, appealing to parents at the launch of the government's sugar tax to switch their children's drinks to mostly milk and water.
Sugar-sweetened soft drinks are the main source of the sugar that children consume. While the levy on high-sugar drinks is a response to the obesity crisis – 20% of children in the last year of primary school in England are now obese – there is huge concern about children's teeth as well.
Every day, 141 children have teeth extracted in hospital and some are as young as one year old. It is the most common reason for children aged 5 to 9 to be admitted to hospital, causing 60,000 missed days of school each year. Children with decayed teeth suffer pain and problems with eating and sleeping, says PHE. The cost to the NHS is £3.4bn a year.
The sugar levy on the manufacturers of soft drinks will hike the price of a litre of high sugar drink (8g of sugar per 100ml) by 24p. Drinks with 5g per 100ml will go up by 18p a litre – if the manufacturers pass the tax to shoppers. Some companies have replaced sugar with artificial sweeteners and have avoided the tax. Others, like Coca-Cola, have chosen to stick with the recipe for their original brand which will rise in price, while pointing out they offer a zero-sugar version too.
Read more