President Donald Trump managed to bankrupt several businesses prior to becoming President. It looks like he is now on his way to bankrupting the US economy. Now it has always been the norm for the Republican Party to lambast the Democrats on frittering away millions of public money. If you look at this photo, you can see Pence, McConnell and Ryan et al. all smiling as Trump announces his massive $1.5 trillion tax cuts that are going to ruin the US economy over the longer term. How did it come to pass that it is now the Republican Party who are no longer the fiscally responsible party in the US?
US
annual budget deficit forecast

to hit

$1 trillion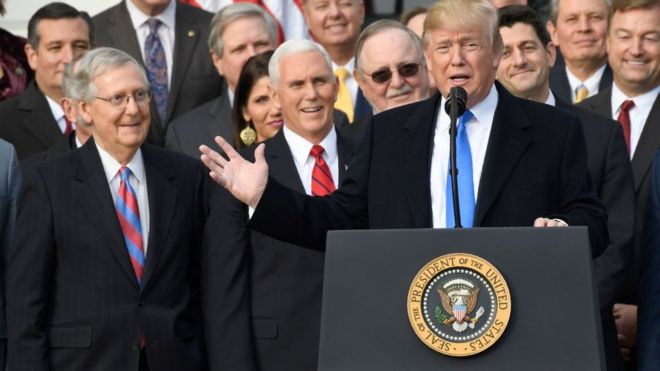 The US is heading for an annual budget deficit of more than $1 trillion (£707bn) by 2020 following tax cuts and higher public spending, according to the Congressional Budget Office.
It said that while the measures will temporarily boost the US economy, they will exacerbate its long-term debt.
The agency said US debt could rise to a level comparable to World War II and the financial crisis.
It warned that it would have "serious negative consequences" for the US.
Read more