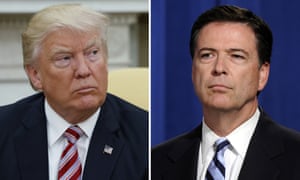 The former FBI director James Comey denounces Donald Trump as "untethered to truth" and likens the president to a mafia boss, in an explosive new book set to bring fresh turmoil to the White House.
Comey's book, A Higher Loyalty, out next Tuesday, is published 11 months after he was fired by Trump, who allegedly tried to lean on him to shut down an investigation into his former national security adviser Michael Flynn.
Comey's sacking triggered the appointment of Robert Mueller as special counselto oversee the investigation into Russian election meddling and alleged collusion between Moscow and Trump aides. Trump has denied collusion and called the investigation a "witch-hunt".
In Comey's book, obtained by the Guardian from a bookseller in New York, the former FBI chief describes his first trip to Trump Tower in January 2017, to brief the president-elect about the dossier on his links to Russia compiled by the former British spy Christopher Steele.
Read more
***
James Comey treads fine line as book set to turn up heat on Trump
The former FBI director's book tour to promote A Higher Loyalty is likely to fuel claims that the president obstructed justice but will also put his own actions under scrutiny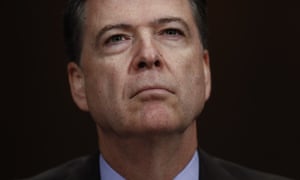 At 6ft 8in tall, James Comey is hard to miss. But two days after the inauguration of Donald Trump, Comey, then director of the Federal Bureau of Investigation, tried to hide from the president at a White House reception, by standing in front of blue drapery that matched his blazer, he later told a friend.
Comey was anxious not to appear chummy with Trump as accusations rippled that he had handed the Republican the election by keeping Hillary Clinton's email habits in the public eye, he explained.
Inspired as it was, however, the camouflaging tactic failed. Trump spotted Comey, opened his arms, called him across the room, grabbed his hand, pulled him in for an awkward hug and, according to Comey, whispered in his ear: "I really look forward to working with you."
Read more